We all know about the issues that the game has been facing, but a solution is on it's way.
Today Yoshinori Ono, the Executive Producer of Street Fighter 5, released two tweets concerning the servers for the game.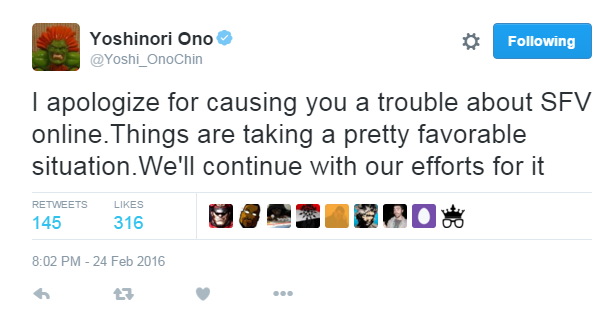 Nobody is sure how the patch will affect the game, but you can infer from the first tweet that it might have something to do with the online issues I wrote about last week. Personally, I'm just hoping that this patch solves the "rage quit" phenomenon and fixes the weird server lag.
Honestly, I finally picked up the game and I'm finding myself disappointed in the lack of content combined with the surplus of problems that have been surfacing. Half of the game isn't out yet and the other half is struggling to work properly. Don't get me wrong, I'll still be playing and practicing, but I disagree with releasing an unfinished game. You can hear all of my thoughts on that subject in my upcoming review of Street Fighter 5.
(Also, if you're wondering why there are so many Street Fighter posts on my blog right now, I'm not quite sure. Street Fighter 5 is a game that really intrigued me prior to it's release and I think it's cool to follow and report on the first weeks of it's release.)